INTERNATIONAL SPROUT GROWERS ASSOCIATION CONVENTION
April 8 – 12, 2019 – Sydney, Australia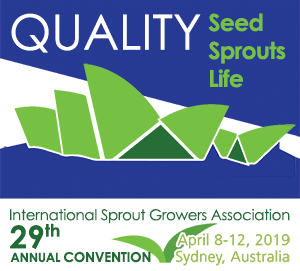 Each year ISGA provides a forum for members of the commercial sprout industry around the world to come together and learn about the latest technologies pertaining to the production of sprouts.  Other subjects of presentation and discussion are marketing sprouts, sprout safety, and the effects of sprouts on human health.
Click HERE to register for the 2019 ISGA Convention.